Address:
36-19 Ditmars Blvd., in Astoria, Queens, New York.
Hours of Operation:
Sunday through Friday - 11:00 a.m. to 8:00 p.m.
Saturday - 11:00 a.m. to 9:00 p.m.

A few times a month, during in-store events
we may be open later, usually until about
10:00 p.m. Check out our events page to
find out when.
---
---
The Brass Owl boutique, purveyor of stylish shoes, clothing, accessories, and gifts, is one of the more recent and notable additions to the Astoria, Queens, community here in New York City. Located on the rapidly evolving Ditmars Blvd. (Learn more at @Ditmars District), the shop offers an eclectic curation of name brand shoes and clothing, local NYC designers, and perfect gifts, some of which are not available anywhere else in the five boroughs, while it serves as a much needed dose of retail therapy locally to Astorians of every stripe.
---
---
Owner Nicole Panettieri has spent her career prior to opening The Brass Owl as a buyer for department stores, including eight years as part of the Macy's South team and one year with K&G Fashion Superstore in Atlanta, and, more recently, four years at Ross Dress For Less here in New York. She has considerable experience in the accessory world, with a history buying ladies shoes, trend jewelry, handbags, and hosiery.
---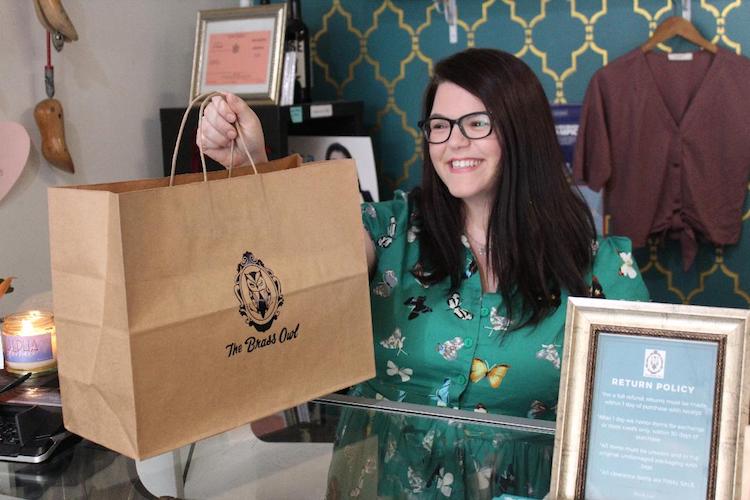 ---
Nicole's family also has a storied history with shoes, starting with her great grandfather who started selling and repairing shoes at a store in Teaneck, N.J., in 1928. The store was passed down to her grandfather, then her father and uncle, and has been run by her uncle since 1994. Her parents ran a boutique, Flip Flop Alley (which started it's life as a flip-flop shop) in Boca Raton, Florida, since 2004.
---
---
Nicole is an ecstatic Astoria resident, who only recently came into the fold back in 2012. Unlike her time spent in Manhattan, Nicole felt an immediate connection to the neighborhood and loved the strong sense of community and village mentality embraced by so many Astoria residents.
---